Hanoi is the transportation hub of northern Vietnam, and the Old City is in the central location, near the train station and close to the airport. The embassy and government area directly to the west is the long-distance travel hub of the city. Thousands of foreign tourists visit the Old City every day.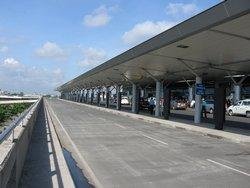 Ho Chi Minh Airport
Airport
Noi Bai International Airport is the largest airport in the northern part of the country. It is located 45 kilometers or 28 miles from central Hanoi. The call letters are HAN. Because it serves the administrative capital of the country the airport gets many more flights from other capital cities than Saigon. Flights come in from Tokyo, Paris, Warsaw, Moscow, Seoul, Beijing, and other capital cities.
City–Airport Transport
Public buses 7 and 17 pick up along Tran Quang Khai at the eastern edge of the Old Quarter and cost 5,000 dong. It's the cheapest but slowest option: allow two hours' bus time before check in. To get from the airport, when you walk out of the terminal go to the far right. You'll see yellow and red number 7 buses going to the Daiwoo Hotel. Change to bus 9 for the old city.
The airport shuttles from the Old City are recommended over taxis. They are cheap and may be the best option (30,000 dong, 1.50 USD). The one that picks up from the Thang Long Opera Hotel (1C Tong Dan) is reliable and easy to get to.
Taxis are problematical. Getting from the airport is made difficult by various types of scams and crimes. The usual cost to the airport is about 250,000 dong (13 USD). People are routinely overcharged, dropped off somewhere they don't want, threatened, given counterfeit money, etc. See our taxi advice below.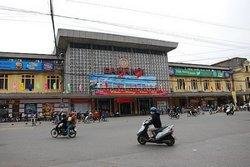 Hanoi Railway Station
Trains
The best way to travel long distance on land is by train unless you are familiar with long-distance bus travel. There are two stations.
Trains to Nanning in China depart from Gia Lam Station about 5 km east of the Old City. Tickets can be purchased from Hanoi Station. It is best to buy the tickets from a station window. A ticket for a "soft-sleeper" compartment (4-berth compartment) costs 568,000 dong (about 28 USD) per person. Be cautious buying these tickets from hotels or travel agents. They may overcharge or scam. For a scam-free journey book with China Highlights.
All other trains use the main Hanoi Train Station (Ga Hang Co, 120 Le Duan) including those that go to southern destinations such as Hue. The train station is close by (about 10 or 15 minutes away by taxi). It is actually only about 1.5 kilometers southwest of the Old City so you can walk to it in about 40 minutes if you know the way.
The distance between Hanoi and Saigon is about 1,700 kilometers. This distance can be traveled in about 30 hours.
It is best to buy your tickets a few days in advance from the train station office. If you use a private ticket agent you might get scammed. It is important to buy the tickets a few days in advance to make sure you can get a ticket. If you try to travel on a public holiday, you might not be able to buy a train ticket.
Long Distance Buses
Hanoi's Old City is in the center of the bus stations.
My Dinh Bus Station for destinations to the north including China and Sapa, and Halong Bay, which is about 13 km away.
Gia Lam Bus Station (Ð Ngoc Lam) is about 3 kilometers east of the Old City, and it is the most popular bus station for buses to points northeast of Hanoi including Halong Bay (3½ hours) and Haiphong (2 hours). Buses also go to the Chinese border towns of Lang Son (3 hours) and Lao Cai (9 hours).
Kim Ma Bus Station has buses to the northwest, and is about 3 km away.
Giap Bat Bus Station on Ð Giai Phong serves points south of Hanoi, including Ninh Binh (2 hours) and Hué (380,000 dong, about 12 hours), and it is about 6 km from the Old City. Buses to Hue usually go on to Da Nang. Sometimes the drivers who yell out the stops in Vietnamese forgot to tell foreign travelers to get off. So be sure to get off once it crosses the long bridge across the Perfume River.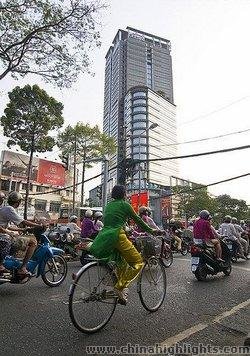 Ho Chi Minh City Center Transport
Local Transportation
Walking: To get around in the Old City area and to go to the nearby attractions, you can walk to most places in 40 minutes or less.
Local Buses
Local buses are cheap (3,000 dong, 20 US cents), regular, and generally safe. Sometimes, they are even air conditioned. Unless you speak and read Vietnamese, or unless you know the route, you'll have trouble getting around on them though. They generally take circuitous routes. But if you do know the route to take, they are a fine way to get around.
Bus 9 is useful. It starts at its terminus on the northern shore of Hoan Kiem Lake and goes over to the Ho Chi Minh Mausoleum complex area. There is a stop in front of the Military Museum.
Tricycles (Cycles)
You'll see some tourists having a good time being tricycled around the Old City or over to the museum area to the west. There is not a set fee, and if you are not careful, they might insist you pay really high prices for a ride of a few minutes.
Be careful getting on these. Some drivers incessantly talk to or shout at foreigners they find walking, and they will even follow people around to get them on. Make sure you negotiate the price first. It is probably best to stay off them while alone at night or in areas where few tourists are.
Taxis
If you want to use a taxi to go someplace, it is best to let your hotel or China Highlights (if you're on one of our Vietnam tours) call for you. It is best to get in with friends or people you trust and not to get in alone. Don't pay until you get your luggage out
Bear in mind also that the meter starts at about 13,000 dong (70 US cents). Make sure that they turn the meter on. The meters are sometimes set to run too fast or overcharge.